Message from OWHMD Founder – July 2017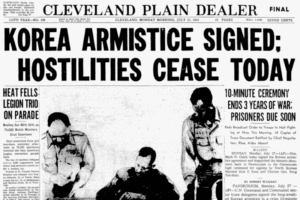 Operation Welcome Home Maryland is privileged to work closely with several wonderful Veterans organizations here at BWI airport, to include the USO, and the Honor Flight Network. Each of us provide support our Veterans and their families in various ways, and we all very and honored to do so!
Now that the summer months are here you will witness an uptick in the number of our events as service members are heading home. This increase load will fill the USO office as they help servicemen and their family with the comforts of home. The Honor Flights will be busy transporting Veterans from cities all over the U.S, to visit Washington D.C. BWI will be a busy place for our troops, so there are plenty of volunteer activities here in the city of Baltimore, each and every day!
With that said, this month, on July 27th, we honor our Korean War Veterans with a National holiday, National Korean War Veterans Armistice Day. Often our Korean War Veterans and this holiday go unnoticed, so take a moment and reach out to a Korean War Veteran that you might know and thank them for their service. You just might find a few volunteers at our events, you will know who they are, just look for their ball caps.
Lastly, Maryland has lost another American Hero on June 12th, in Afghanistan. SGT Eric Houck, 25, of Perry Hall, along with two of his fellow soldiers from the 101st Airborne Division lost their lives while stationed in Nangarhar Province, apparently by an Afghan soldier whom they were training. SGT Houck leaves behind a young wife, and two small children, 3 and 5 years old. Eric was to return home this August. Our deepest condolences and prayers to the Houck family and  during this difficult time. We honor him for his ultimate sacrifice.
Hope to see you at the airport soon!
Sincerely,
Kathy Thorp
navyfam6@comcast.net
About Operation Welcome Home Maryland!
Since March 2007, Operation Welcome Home (Maryland) greets Soldiers, Sailors, Airmen, Marines and Coast Guard service members returning from overseas. We average about four welcome home event per week, and YOU could be part of the excitement.
Individuals, corporations, youth groups, Boy Scouts, Girl Scouts, Cub Scouts, civic organizations, religious organizations, and government agencies have all participated in events since our founding in March 2007. Volunteers help decorate the lobby with patriotic signs and banners. They also package "goodie bags" for the troops, many of whom are hungry, thirsty, and tired from their travels and will be waiting on a connecting flight.
When the troops arrive through the doors of the International Arrival terminal, we shower them with praise, cheering them on, hugging them, offering them a "goodie bag," and thanking them for their service.
We invite you to come on out to the International terminal at BWI and help us welcome them home! Take a look at the EVENT CALENDAR on the right side of this website to see the current month's event dates or call our hotline at (410) 630-1555.
We are also meeting many unexpected flights so keep watching the calendar for changes; we suggest putting our hotline telephone number in your cell phone to get up to the minute news on new flights we will be meeting…
Thank you for your interest in supporting our troops and giving them the hero's welcome home they truly deserve!!! We also encourage military personnel from all services to come in uniform to greet your fellow servicemembers!
ATTENTION: Companies, schools, church groups and other organizations: We invite you to come out and support our welcome home events, and/or contribute water and snacks for the troops; please email us at webmaster@owhmd.org Volunteers are always needed to give our troops the hero's welcome that they deserve.
Email any questions you may have to:  webmaster@owhmd.org
Thank you!  Be sure to Visit us on Facebook