Message from OWHMD Founder – February 2016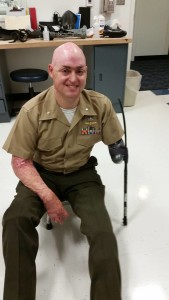 As we start the month of February, I thought it would be a suitable time to catch you up on a family friend, Lieutenant Colonel Bryan, a Marine Corps CH-46 pilot, who has been recovering from his helo training accident, which occurred in 2009. Every year, I provide an update on his amazing recovery, and fighting spirit. Bryan was on a training mission in Okinawa where his helo crashed. He was critically injured with severe burns across his whole body which, resulted in the loss of his right arm, and multiple other injuries which required him to learn how to walk again.
He recuperated at the Center for the Intrepid, a rehabilitation center for our wounded warriors located in San Antonio, for severe injured and burn victims. Bryan path to recovery involved multiple surgeries, hospitalizations, skin grafts, and infections. With his family by his side, he has shown determination, grit and courage through it all.
He remains on active duty, and is in the process of seeking his teaching certificate for high school. His recovery has involved innovative approaches, notably with the fitting of a DEKA prosthetic arm. He has also been fitted with a special arm, just for hockey and has participated in several bike rides for wounded warriors. He has met a variety of celebrities, including Gary Sinese, and former President and Mrs. Bush.
His story can be followed on facebook, via the Forney Journey. In tribute to Bryan and all other servicemen and women who are recovering from their wounds of war, our Nation salutes you. Thank you for your service to our country! We have not forgotten you!
I also wish to thank the many individuals and organizations who support our troops, by helping us with our mission of giving our service members a hero's welcome home. Your gift of time, and generous donations for the snack bags are appreciated greatly! 100% of all donations are provided to the troops.
See you at the airport! Kathy
Welcome Home Veterans Day: Save the Date, 30 March 2016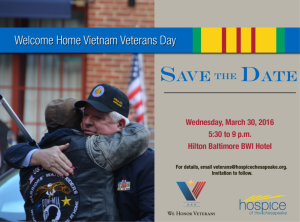 Last year, Hospice of the Chesapeake worked with Maryland Senator John C. Astle to get March 30th as the commemorative day in the state of Maryland to celebrate, honor, and Welcome Home our Vietnam Veterans.  This was the first bill that Governor Hogan signed into law and after the bill signing they welcomed home hundreds of Vietnam Veterans at the Loews Annapolis Hotel.  They hope to continue this event for years to come on behalf of our Vietnam Veterans.
This year the event will be held at the BWI Hilton Hotel.  The program starts at 6:30 pm and doors open at 5:30m. 
The event is open to ALL Vietnam Veterans and their families with no charge as it is a gift to these military heroes. Come on out to cheer for our Vietnam Veterans as a way to give them the welcome that they never had when they came back from service.
About Operation Welcome Home Maryland!
Since March 2007, Operation Welcome Home (Maryland) greets Soldiers, Sailors, Airmen, Marines and Coast Guard service members returning from overseas. We average about four welcome home event per week, and YOU could be part of the excitement.
Individuals, corporations, youth groups, Boy Scouts, Girl Scouts, Cub Scouts, civic organizations, religious organizations, and government agencies have all participated in events since our founding in March 2007. Volunteers help decorate the lobby with patriotic signs and banners. They also package "goodie bags" for the troops, many of whom are hungry, thirsty, and tired from their travels and will be waiting on a connecting flight.
When the troops arrive through the doors of the International Arrival terminal, we shower them with praise, cheering them on, hugging them, offering them a "goodie bag," and thanking them for their service.
We invite you to come on out to the International terminal at BWI and help us welcome them home! Take a look at the EVENT CALENDAR on the right side of this website to see the current month's event dates or call our hotline at (410) 630-1555.
We are also meeting many unexpected flights so keep watching the calendar for changes; we suggest putting our hotline telephone number in your cell phone to get up to the minute news on new flights we will be meeting…
Thank you for your interest in supporting our troops and giving them the hero's welcome home they truly deserve!!! We also encourage military personnel from all services to come in uniform to greet your fellow servicemembers!
ATTENTION: Companies, schools, church groups and other organizations: We invite you to come out and support our welcome home events, and/or contribute water and snacks for the troops; please email us at webmaster@owhmd.org Volunteers are always needed to give our troops the hero's welcome that they deserve.
Email any questions you may have to:  webmaster@owhmd.org
Thank you!  Be sure to Visit us on Facebook