Message from OWHMD Founder – Nov 2017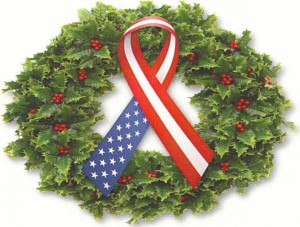 As we wrap up remembering our Veterans, this past Veterans day, I thought I would share that Operation Welcome Maryland (OWHMD) has joined forces with Wreaths Across America again for our 6th year, to REMEMBER and HONOR our fallen.
This year will mark Wreaths Across America's 26th year of the Worchester Wreath Company annual event of laying wreaths, in over 1,200 Veteran locations across the Nation on *December 16th. Wreath Across America REMEMBERS the fallen, HONORS those that serve, and continues to teach children the value of FREEDOM yearlong. Their mission isn't over once December ends. It's not too earlier to think of this most generous gesture for our fallen Heroes!
The good news is that for each wreath sponsored through our link on the WAA web page, $5.00 will be given back to help us support our troops and carry on our mission. Our goal is to surpass our record of 1,200 wreaths, set back in 2015. As of this date, we have already raised $7,500 for the cause.
So, you ask, what can I do to help? There are three options of assisting us this year. The first, by distributing this information to individuals, business, companies in your networks. Secondly, by sponsoring a wreath for $15.00, as specified below. Lastly, by volunteering with us at the United States Naval Academy Cemetery (USNA), on Friday, *December 8th, 2017.
SPREADING THE WORD: Information about our effort can be sent to your group Volunteer coordinator, Philanthropy office, or a point of contact in your own company/business to make a donation. All Sponsors will be posted on our WAA web page, and an acknowledgement of the donation will be sent for your records. Remember, all donations are 100% tax deductible. It is a good "news story" to submit to your company's newsletter. Be sure to follow the details below, so OWHMD receives the credit.
SPONSORING A WREATH: Sponsoring a tax deductible wreath for $15.00 can be done by the following:
Visit the Wreaths Across America web site at www.wreathsacrossamerica.org
Select VOLUNTEER, then VOLUNTEER AT AN EVENT, type in OPERATION WELCOME HOME MARYLAND to the search menu (MD0021P). Select our organization and order off our web page.
If you desire to have your wreath laid at a cemetery other than the United States Naval Academy, mail a check with the OWHMD group number (MD0021P) and the location ID, to Wreaths Across America, P.O. Box 249 Columbia Falls, ME 04623. (The location ID can be found by using the search option mentioned above, by entering your zip code.)
VOLUNTEERING: Volunteers are needed on Friday December 8th, 2017, at the USNA cemetery. The official ceremony begins at 9:30 am, though OWHMD volunteers will meet at 8:45 am for a group photo. Please email me at navyfam6@comcast.net if you are interested in helping.
*The U.S. Military Academy and the U.S. Naval Academy cemeteries are adorned two weeks earlier, to accommodate the famous Army Navy football game.
We are not here to "decorate graves." We're here to remember not their deaths, but their lives. Karen Worcester, Executive Director of Wreaths Across America
This is a great way to support two Veteran organizations at once. Thank you once again for your generosity and support!
Ladies of the Record Street Home help make cards for our returning heroes
Here is a picture of Lisa Funk with the LADIES OF THE RECORD STREET HOME in Frederick, MD making greeting cards for our returning troops. The Ladies have been making cards for OWHMD for the past 7 years. Two of the ladies who just recently passed on to Glory were Veterans of WWII; one was a Rosie the Riveter and the other was a Weather Reporter / Air Traffic Controller. Both were Waves.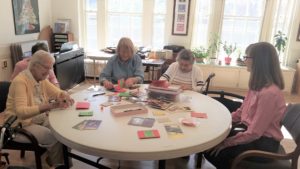 Message from OWHMD Founder – Sep 2017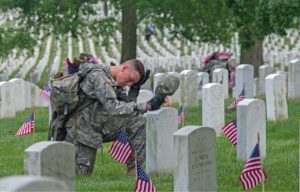 Our Country has been under an enormous tension and trauma the past month or so. From the protests against our American Flag, to the disastrous hurricanes in Texas, Florida, Puerto Rico, and now Las Vegas my heart aches for our Nation.
I am only one voice, amid thousands opinions regarding the NFL support of the players disrespecting our Flag. I believe in the right to protest, but not on ones "work time", nor at an event for which my hard earned money, and a lot of it, is being spent.
I may be one voice, but one voice to say this is "deplorable" to our service members who serve and who have served. One just has to attend a funeral at Arlington National Cemetery, and witness the presentation of a flag to a loved one or see the Flag draped on the coffin of our deceased service member. It's the cloth of our Nation, the last gift our Nation gives a grieving family for their husband, wife, son or daughters ultimate sacrifice.
I have a message for the Ravens, and other NFL teams who visit Baltimore, I challenge each and every one of you to give back to our troops, by showing up for our welcome home events, and demonstrate to those who are returning from their long, and exhausting deployments that YOU do care for our troops. You will see the weariness in their eyes, the strain of being away from their families, the concealed nightmares, night after night, of watching their buddies being banged up, while wearing our Flag on their uniform, defending the freedoms that we hold dearly.
So I dare all who feel my sediments to enjoy the new found time of not watching football, and spend time with your family and friends in other ways. Volunteer at one of our events, seek ways to help in your local community and better yet, the city of Baltimore.  We are not rich like the NFL players, but are rich in our hearts knowing that we have given time to our community, as starts with each one of us!
As for those who are recovering from these natural disasters, and the horrible Las Vegas shooting, on behalf of all of us here at Operation Welcome Home Maryland, our prayers and thoughts are with you all. We applaud all the unsung heroes who risked their lives to save others and who will be living with the trauma of that fateful day for years to come. Something, by the way, that our service members do, day after day.
Hope to see you at the airport soon!
Sincerely,
Kathy Thorp
navyfam6@comcast.net
About Operation Welcome Home Maryland!
Since March 2007, Operation Welcome Home (Maryland) greets Soldiers, Sailors, Airmen, Marines and Coast Guard service members returning from overseas. We average about four welcome home event per week, and YOU could be part of the excitement.
Individuals, corporations, youth groups, Boy Scouts, Girl Scouts, Cub Scouts, civic organizations, religious organizations, and government agencies have all participated in events since our founding in March 2007. Volunteers help decorate the lobby with patriotic signs and banners. They also package "goodie bags" for the troops, many of whom are hungry, thirsty, and tired from their travels and will be waiting on a connecting flight.
When the troops arrive through the doors of the International Arrival terminal, we shower them with praise, cheering them on, hugging them, offering them a "goodie bag," and thanking them for their service.
We invite you to come on out to the International terminal at BWI and help us welcome them home! Take a look at the EVENT CALENDAR on the right side of this website to see the current month's event dates or call our hotline at (410) 630-1555.
We are also meeting many unexpected flights so keep watching the calendar for changes; we suggest putting our hotline telephone number in your cell phone to get up to the minute news on new flights we will be meeting…
Thank you for your interest in supporting our troops and giving them the hero's welcome home they truly deserve!!! We also encourage military personnel from all services to come in uniform to greet your fellow servicemembers!
ATTENTION: Companies, schools, church groups and other organizations: We invite you to come out and support our welcome home events, and/or contribute water and snacks for the troops; please email us at webmaster@owhmd.org Volunteers are always needed to give our troops the hero's welcome that they deserve.
Email any questions you may have to:  webmaster@owhmd.org
Thank you!  Be sure to Visit us on Facebook