Message from OWHMD Founder – October 2015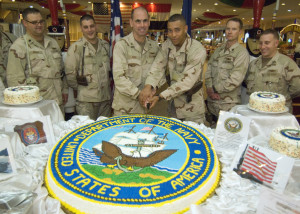 October is here, pumpkins, and Halloween decorations are creeping up all over, and the color of the  leaves simply breathtaking, showing the beauty of the season.  The month of October carries the Navy Birthday (Oct 13th), and Day of Deployed (Oct 26th), a day to remember all of our servicemen who are currently deployed. It's an unknown National Holiday, so I share this with you to think of something that you can do for those who are away from their families at this time. Perhaps, take a moment and send a note, email or package to someone who you know is deployed, I am sure they would appreciate the thoughtfulness.
I know that the Christmas holiday seems so far away, however it's never too early to mention our involvement once again with Wreaths across America. Volunteers are needed at WAA designated veteran cemeteries across the nation to lay wreaths on our fallen. So mark your calendars for December 11th, to join us at the USNA cemetery!  Can't take the time off, how about sponsoring a wreath?  When you do, you help two veteran groups at once.
For each wreath sponsored, $5.00 is provided back to OWHMD to help us with the purchase of the snacks items when our inventory runs low.
Last year, we received sponsorship for over 730 wreaths, and our goal this year is 800. Could you sponsor one wreath for $15.00? All sponsorships are tax deductible. Just go WAA web page (www.wreathsacrossamerica.org), hit the local tab, and enter Operation Welcome Home Maryland. Feel free to pass this to your company, firm, or business for a corporate sponsorship. We were grateful to Two if by Tea, and Booz Allen Hamilton for their most generous corporate donations last year!
Each month that passes, OWHMD is so grateful for the generous of the local community for donations which help fill the snack bags with snacks and water. Every donation that we receive, large or small is used for the snack bags, and we are so grateful for everyone who has donated! September brought us some big hitters, and we would like to recognize these local companies who share in our mission in supporting our Veterans.
The first is Goetze Candy Company, who graciously donates regularly their delicious caramel cream candies to our snack bags. The troops love these tasty treats and appreciate something local from Baltimore, Thank you Goetze!
The second company, a new partner with OWHMD, is Media Star Productions, another Baltimore Company who came out in force last month with 50 volunteers who spent a half of day with OWHMD making cards, donating snacks items for the snack bags and providing an AMEX gift card to each 300 servicemen who arrived home on that day. The card read, "Thank you for your service, the first one is on us, Cheers!"
There were countless others who donated snacks, monetary donations, and handmade welcome home cards. We count on these donations for our snack bags, and thank each and every one of you who help us out in some way!
Until next month, keep the cards coming!
Kathy Thorp, Founder, Operation Welcome Home (Maryland)
About Operation Welcome Home Maryland!
Since March 2007, Operation Welcome Home (Maryland) greets Soldiers, Sailors, Airmen, Marines and Coast Guard service members returning from overseas. We average about four welcome home event per week, and YOU could be part of the excitement.
Individuals, corporations, youth groups, Boy Scouts, Girl Scouts, Cub Scouts, civic organizations, religious organizations, and government agencies have all participated in events since our founding in March 2007. Volunteers help decorate the lobby with patriotic signs and banners. They also package "goodie bags" for the troops, many of whom are hungry, thirsty, and tired from their travels and will be waiting on a connecting flight.
When the troops arrive through the doors of the International Arrival terminal, we shower them with praise, cheering them on, hugging them, offering them a "goodie bag," and thanking them for their service.
We invite you to come on out to the International terminal at BWI and help us welcome them home! Take a look at the EVENT CALENDAR on the right side of this website to see the current month's event dates or call our hotline at (410) 630-1555.
We are also meeting many unexpected flights so keep watching the calendar for changes; we suggest putting our hotline telephone number in your cell phone to get up to the minute news on new flights we will be meeting…
Thank you for your interest in supporting our troops and giving them the hero's welcome home they truly deserve!!! We also encourage military personnel from all services to come in uniform to greet your fellow servicemembers!
ATTENTION: Companies, schools, church groups and other organizations: We invite you to come out and support our welcome home events, and/or contribute water and snacks for the troops; please email us at webmaster@owhmd.org Volunteers are always needed to give our troops the hero's welcome that they deserve.
Email any questions you may have to:  webmaster@owhmd.org
Thank you!  Be sure to Visit us on Facebook