Message from OWHMD Founder – August 2014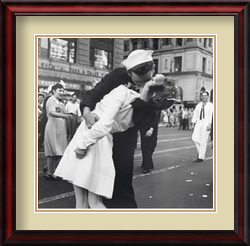 This month, I wanted to highlight a significant historical day in our country, one not often remembered by many of our younger generations of today. For many World War II Veterans, August 14, 1945 was a monumental day in their lives and for our country. It was the day it was announced that Japan had surrendered unconditionally to the Allies, effectively ending World War II, otherwise known as Victory over Japan Day," or simply "V-J Day." Japan's formal surrender took place aboard the U.S.S. Missouri, on September 2, 1945, ending six years of hostilities with Japan.
In celebration of this day, Operation Welcome Home Maryland (OWHMD) will continue its effort of supporting our troops, by collaborating with two local Chick-Fil-A restaurants near Arundel Mills mall to help raise awareness of what we do. The war is not over yet, and many of our servicemen are yet to come home.
We need your help in giving them a Hero's welcome! To help support the OWHMD mission, Chick-Fil-A has offered will provide a generous percentage of all receipts dropped in a specially marked box during the hours of 5-9 pm .
Other exciting activities during this time include an opportunity to write "Welcome Home" cards which will be used in the snack bags each serviceman receives once they arrive home. We assemble and give out more than 7,000 snack bags a month, and we need your support to make sure we stay stocked with water and snacks that we give to each serviceman as a small gift of appreciation for their sacrifice. We are extremely grateful for each of you who continue to support us by volunteering at our events and/or by donating to the snack bag items.
Mark your calendar for August 14th, between 5-7 pm, stop by either the Quarterfield Rd  (click for map) or Arundel Mills (click for map) Chick Fil A restaurants, have some delicious Chick-Fil-A food, drop your receipt in the box, make a card or two – bring family and friends and have some fun!
Remember, it's also tax free week in Maryland, so stop in before or after your shopping trip at the mall.
See you at the airport ! Sincerely,
Kathy Thorp, Founder, Operation Welcome Home (Maryland)
About Operation Welcome Home Maryland!
Since March 2007, Operation Welcome Home (Maryland) greets Soldiers, Sailors, Airmen, Marines and Coast Guard service members returning from overseas. We average about four welcome home event per week, and YOU could be part of the excitement. Individuals, corporations, youth groups, Boy Scouts, Girl Scouts, Cub Scouts, civic organizations, religious organizations, and government agencies have all participated in events since our founding in March 2007. Volunteers help decorate the lobby with patriotic signs and banners.  They also package "goodie bags" for the troops, many of whom are hungry, thirsty, and tired from their travels and will be waiting on a connecting flight. When the troops arrive through the doors of the International Arrival terminal, we shower them with praise, cheering them on, hugging them, offering them a "goodie bag," and thanking them for their service. Email any questions you may have to:  webmaster@owhmd.org We invite you to come on out to the International terminal at BWI and help us welcome them home! Take a look at the EVENT CALENDAR on the right side of this website to see the current month's event dates or call our hotline at (410) 630-1555. We are also meeting many unexpected flights so keep watching the calendar for changes; we suggest putting our hotline telephone number in your cell phone to get up to the minute news on new flights we will be meeting… Thank you for your interest in supporting our troops and giving them the hero's welcome home they truly deserve!!! We also encourage military personnel from all services to come in uniform to greet your fellow servicemembers! ATTENTION: Companies, schools, church groups and other organizations: We invite you to come out and support our welcome home events, and/or contribute water and snacks for the troops; please email us at webmaster@owhmd.org Volunteers are always needed to give our troops the hero's welcome that they deserve. Thank you! Visit us on Facebook