Message from OWHMD Founder – December 2016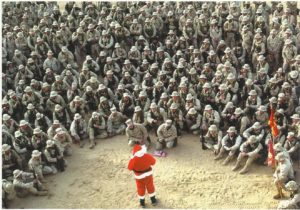 It's hard to believe that December is upon us, a busy and hectic month filled with preparation for the Christmas holiday. As we gather with family and friends, it brings us together to reflect on the blessings for which we all have been given throughout the year.
All of us from Operation Welcome Home Maryland, are MOST grateful for all your amazing support, as we would not be where we are today without you! We are eternally grateful and share the infamous Night Before Christmas story this month, to remind us all of our service members who will not be home for Christmas.
From all of us from Operation Welcome Home Maryland, we wish you a joyous holiday season, and healthy New Year!
The Night before Christmas
The embers glowed softly, and in their dim light,
I gazed round the room and I cherished the sight.
My wife was asleep, her head on my chest,
My daughter beside me, angelic in rest.
Outside the snow fell, a blanket of white,
Transforming the yard to a winter delight.
The sparkling lights in the tree I believe,
Completed the magic that was Christmas Eve.
My eyelids were heavy, my breathing was deep,
Secure and surrounded by love I would sleep.
In perfect contentment, or so it would seem,
So I slumbered, perhaps I started to dream.

The sound wasn't loud, and it wasn't too near,
But I opened my eyes when it tickled my ear.
Perhaps just a cough, I didn't quite know, Then the
sure sound of footsteps outside in the snow.
My soul gave a tremble, I struggled to hear,
And I crept to the door just to see who was near.
Standing out in the cold and the dark of the night,
A lone figure stood, his face weary and tight.

A soldier, I puzzled, some twenty years old,
Perhaps a Marine, huddled here in the cold.
A lone in the dark, he looked up and smiled,
Standing watch over me, and my wife and my child.
"What are you doing?" I asked without fear,
"Come in this moment, it's freezing out here!
Put down your pack, brush the snow from your sleeve,
You should be at home on a cold Christmas Eve!"

For barely a moment I saw his eyes shift,
Away from the cold and the snow blown in drifts..
To the window that danced with a warm fire's light
Then he sighed and he said "Its really all right,
I'm out here by choice. I'm here every night."

"It's my duty to stand at the front of the line,
That separates you from the darkest of times.
No one had to ask or beg or implore me,
I'm proud to stand here like my fathers before me.
My Gramps died at 'Pearl on a day in December,"
Then he sighed, "That's a Christmas 'Gram always remembers."
My dad stood his watch in the jungles of 'Nam,
And now it is my turn and so, here I am.
I've not seen my own son in more than a while,
But my wife sends me pictures, he's sure got her smile.

Then he bent and he carefully pulled from his bag,
The red, white, and blue… an American flag.
I can live through the cold and the being alone,
Away from my family, my house and my home.
I can stand at my post through the rain and the sleet,
I can sleep in a foxhole with little to eat.
I can carry the weight of killing another,
Or lay down my life with my sister and brother..
Who stand at the front against any and all,
To ensure for all time that this flag will not fall."

"So go back inside," he said, "harbor no fright,
Your family is waiting and I'll be all right."
"But isn't there something I can do, at the least,
"Give you money," I asked, "or prepare you a feast?
It seems all too little for all that you've done,
For being away from your wife and your son."
Then his eye welled a tear that held no regret,
"Just tell us you love us, and never forget.
To fight for our rights back at home while we're gone,
To stand your own watch, no matter how long.
For when we come home, either standing or dead,
To know you remember we fought and we bled.
Is payment enough, and with that we will trust,
That we mattered to you as you mattered to us."

by Michael Marks
See you at the airport!
Kathy Thorp
navyfam6@comcast.net
About Operation Welcome Home Maryland!
Since March 2007, Operation Welcome Home (Maryland) greets Soldiers, Sailors, Airmen, Marines and Coast Guard service members returning from overseas. We average about four welcome home event per week, and YOU could be part of the excitement.
Individuals, corporations, youth groups, Boy Scouts, Girl Scouts, Cub Scouts, civic organizations, religious organizations, and government agencies have all participated in events since our founding in March 2007. Volunteers help decorate the lobby with patriotic signs and banners. They also package "goodie bags" for the troops, many of whom are hungry, thirsty, and tired from their travels and will be waiting on a connecting flight.
When the troops arrive through the doors of the International Arrival terminal, we shower them with praise, cheering them on, hugging them, offering them a "goodie bag," and thanking them for their service.
We invite you to come on out to the International terminal at BWI and help us welcome them home! Take a look at the EVENT CALENDAR on the right side of this website to see the current month's event dates or call our hotline at (410) 630-1555.
We are also meeting many unexpected flights so keep watching the calendar for changes; we suggest putting our hotline telephone number in your cell phone to get up to the minute news on new flights we will be meeting…
Thank you for your interest in supporting our troops and giving them the hero's welcome home they truly deserve!!! We also encourage military personnel from all services to come in uniform to greet your fellow servicemembers!
ATTENTION: Companies, schools, church groups and other organizations: We invite you to come out and support our welcome home events, and/or contribute water and snacks for the troops; please email us at webmaster@owhmd.org Volunteers are always needed to give our troops the hero's welcome that they deserve.
Email any questions you may have to:  webmaster@owhmd.org
Thank you!  Be sure to Visit us on Facebook