Message from OWHMD Founder – August 2016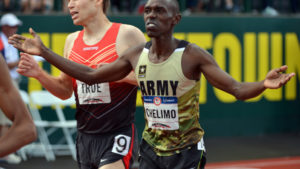 The month of August is in full swing, as everyone is catching the last weeks of summer vacation,  shopping for school supplies, or for college students, packing their bags and departing for their schools near and far.
For many of us, August has brought the XXXII Summer Olympics in Rio, which is a wonderful way to forget the everyday political drama that surrounds us, and chance to join together as a family to root for our talented and gifted USA Olympian team.
It has been exciting to watch, beginning with the opening ceremonies, with our home town boy, Michael Phelps carrying the American Flag.  Michael, by the way is not the only local athlete participating in the Olympics. I discovered, that there are 23 other Athletes with Maryland ties, participating in 14 different sports.
Most importantly, there are 18 Military servicemen who are participate as well. Army is well represented, with 15 Soldiers, the Marines have sent their one representative and the Navy has one Sailor participating.
Two of the 17 Servicemen are Paralympics, who have overcome major injuries, and shown courageous strength.   These are our everyday heroes who you may never hear about on our everyday media outlets. I thought I would take this opportunity to share their names with you all as they compete for the GOLD. We salute you Sergeant Elizabeth Marks, and Army Staff Sgt. Michael Lukow!
Go USA!!
As I finish my note for this month, I share that our hearts our broken as we share with sadness that we have lost one of our dear friends, dedicated Team Leader, and OWHMD family member, Cheri Laumann.
Cheri and her husband Bud, have been an integral part of OWHMD for a number of years. Cheri's smile, humor, and kindness surrounded everyone who she met. She loved being at our events, leading and greeting each servicemen with a smile and a grand welcome home.
he is home now, with our Supreme Commander. Her obituary can be found in the Baltimore on line news.
Until next month!
Until next month, see you at the airport! Kathy
About Operation Welcome Home Maryland!
Since March 2007, Operation Welcome Home (Maryland) greets Soldiers, Sailors, Airmen, Marines and Coast Guard service members returning from overseas. We average about four welcome home event per week, and YOU could be part of the excitement.
Individuals, corporations, youth groups, Boy Scouts, Girl Scouts, Cub Scouts, civic organizations, religious organizations, and government agencies have all participated in events since our founding in March 2007. Volunteers help decorate the lobby with patriotic signs and banners. They also package "goodie bags" for the troops, many of whom are hungry, thirsty, and tired from their travels and will be waiting on a connecting flight.
When the troops arrive through the doors of the International Arrival terminal, we shower them with praise, cheering them on, hugging them, offering them a "goodie bag," and thanking them for their service.
We invite you to come on out to the International terminal at BWI and help us welcome them home! Take a look at the EVENT CALENDAR on the right side of this website to see the current month's event dates or call our hotline at (410) 630-1555.
We are also meeting many unexpected flights so keep watching the calendar for changes; we suggest putting our hotline telephone number in your cell phone to get up to the minute news on new flights we will be meeting…
Thank you for your interest in supporting our troops and giving them the hero's welcome home they truly deserve!!! We also encourage military personnel from all services to come in uniform to greet your fellow servicemembers!
ATTENTION: Companies, schools, church groups and other organizations: We invite you to come out and support our welcome home events, and/or contribute water and snacks for the troops; please email us at webmaster@owhmd.org Volunteers are always needed to give our troops the hero's welcome that they deserve.
Email any questions you may have to:  webmaster@owhmd.org
Thank you!  Be sure to Visit us on Facebook