Message from OWHMD Founder – December 2014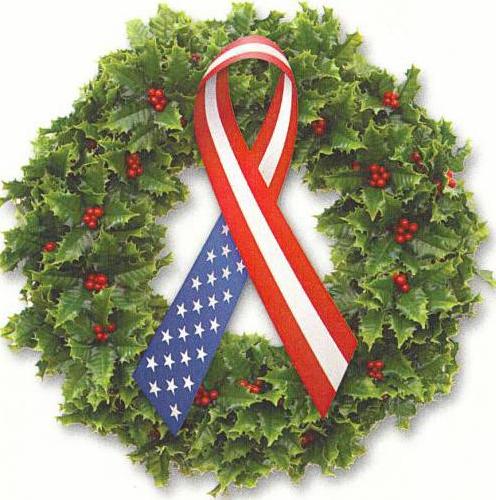 Come and honor our Military Heroes on December 27th in downtown Annapolis, and help Operation Welcome Home Maryland march in the Military bowl parade. We extend an invitation to all our volunteers to come and join us,  along with the famous Budweiser Clydesdales to honor our Veterans!   Interested groups or individuals who have helped us through the years and wish to participate, contact a team leaders, or myself to participate. Stay tuned to our event line and facebook page for more information!
I thought it would be fitting to share a re-penning of the of the " Twas the night before Christmas" by SGG Scott Nelson who re-wrote the lyrics from his bunk, while deployed in 2009. Its good to remember our service members who are away this Christmas season.  Let us remember them, and their families who have given to much!  On behalf of all of us at Operation Welcome Home Maryland, we wish you and your families a blessed Christmas and a happy New Year!
Twas the night before Christmas, and all through Afghanistan,
not a creature was stirring, not even the Taliban.
Combat boots were aligned under the cots with care,
but nobody expected that St Nicholas would be there.
The soldiers were nestled all snug in their beds,
while visions of home danced in their heads.
When out by the wire there arose such a clatter,
all the soldiers sprang from their beds to see what was the matter.
Away to the fighting positions they flew with a flash,
threw on their gear and made a mad dash.
The moon shining down on the desert below
gave the Afghan qalats a menacing glow.
When up in the sky something strange did appear,
but all the brave soldiers suppressed their fear.
Calmly they prepared for the battle ahead,
though their hearts were filled with a visceral dread.
But soon they discovered a cause for the racket,
a laughing fat man in a brilliant red jacket.
He was driving a sleigh loaded with gear,
pulled behind a team of eight reindeer!
The soldiers gazed with awe at the sight,
of the familiar man flying his sleigh through the night.
Down came the sleigh with a dizzying drop,
and soon Santa landed in the midst of the COP!
As he stepped down into the gathering crowd,
he patted his belly and exclaimed aloud:
"Combat landings are always a fright,
maybe I shouldn't have had that egg nog tonight!"
He pulled out a bag which bulged at the seams,
filled with the things of the soldiers dreams.
Ipods and video games and paperback tomes,
cookies and candies and letters from home.
To each soldier he gave with a hug and a smile,
chuckling and jiggling with joy all the while.
When his bag was empty and all his treats gone,
he led the soldiers in a few Christmas songs.
Soon they knew it was time that St. Nick must go,
but a private stepped forward, said "Santa, I want to know..
Why did you come to this forsaken hole in the sand,
where war and cruelty ravage the land?"
Santa looked up with a gleam in his eye,
and for a second it seemed as if he might cry.
With a quivering voice he said to the women and men
"I look forward with joy to that day when
all mankind will be happy and live together in peace,
from the North to the South to the West to the East.
But for now I know some must fight,
to ensure that the weak and oppressed have the right
to live their lives as they want, as they please,
without tyranny bringing them to their knees.
I know these men and women are lonely and scared,
far from their life,
far from friend and neighbor and child, husband or wife
These heroes deserve the joy of the season,
and to this land I come for that reason"
He saluted the soldiers with pride in his eyes,
then climbed into his sleigh with a sigh.
With a whistle and a flick of the reigns in his hand,
the sleigh and the reindeer rose above the land
He bellowed as he rose ever higher and flew out of sight
"Merry Christmas to all and to all a good night!"
In the category of better late than never, I want to share a music video the Army Band did back in 2011 "Welcome Christmas."
Please feel free to share the link with friends and social media outlets.  Happy Holidays!
See you at the airport ! Sincerely, Kathy Thorp, Founder, Operation Welcome Home (Maryland)
A visit with the Ladies of Record Street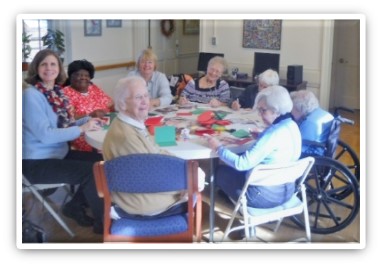 Long-time Operation Welcome Home (Maryland) volunteers Ken and Lisa F. traveled to Fredrick, MD on November 18, 2014 to visit with The Ladies of the Record Street Home.
The Home was started back in early 1892, when a handful of Fredericktowne ladies decided there was a need to provide for those who, through misfortune, could no longer care for themselves.
This was Ken and Lisa's third year in a row visiting with the residents, volunteers and staff. Ken and Lisa joined in with them as they made over 150 beautiful hand-made welcome home cards for our returning heroes. The ladies have been making these cards every month, for over four years now.
One of the ladies was a World War II Veteran who worked as an Air Traffic Control Weatherperson in Norfolk, VA. Another worked in a factory making war parts to supply the war effort. Still others were spouses of veterans. All are heroes in our book!
It was so heartwarming to see the great love these ladies  have for our country!
When they finished making the cards. Ken and Lisa presented each of the ladies, volunteers and staff with a long stemmed red rose and a big box of chocolates to share.
From all of us at Operation Welcome Home Maryland, we thank you for your service, and what you do for our returning heroes.
Have a wonderful Thanksgiving, and we can't wait to see you again in 2015.
About Operation Welcome Home Maryland!
Since March 2007, Operation Welcome Home (Maryland) greets Soldiers, Sailors, Airmen, Marines and Coast Guard service members returning from overseas. We average about four welcome home event per week, and YOU could be part of the excitement. Individuals, corporations, youth groups, Boy Scouts, Girl Scouts, Cub Scouts, civic organizations, religious organizations, and government agencies have all participated in events since our founding in March 2007. Volunteers help decorate the lobby with patriotic signs and banners.  They also package "goodie bags" for the troops, many of whom are hungry, thirsty, and tired from their travels and will be waiting on a connecting flight. When the troops arrive through the doors of the International Arrival terminal, we shower them with praise, cheering them on, hugging them, offering them a "goodie bag," and thanking them for their service. Email any questions you may have to:  webmaster@owhmd.org We invite you to come on out to the International terminal at BWI and help us welcome them home! Take a look at the EVENT CALENDAR on the right side of this website to see the current month's event dates or call our hotline at (410) 630-1555. We are also meeting many unexpected flights so keep watching the calendar for changes; we suggest putting our hotline telephone number in your cell phone to get up to the minute news on new flights we will be meeting… Thank you for your interest in supporting our troops and giving them the hero's welcome home they truly deserve!!! We also encourage military personnel from all services to come in uniform to greet your fellow servicemembers! ATTENTION: Companies, schools, church groups and other organizations: We invite you to come out and support our welcome home events, and/or contribute water and snacks for the troops; please email us at webmaster@owhmd.org Volunteers are always needed to give our troops the hero's welcome that they deserve. Thank you! Visit us on Facebook