Message from OWHMD Founder – July 2014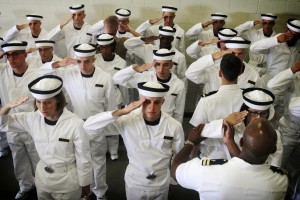 As the summer begins, so does the start of Plebe summer here in Annapolis, Maryland for over 1,200 incoming Midshipmen, who have now have taken an oath to support and defend the Constitution of the United States by serving our country for the next nine or more years of their lives. For the past 19 years, I have had the opportunity to take part in this "in processing" evolution at USNA, observing and listening to these talented young men and women who are filled with enthusiasm, and a deep desire to serve their country. Indeed our country can be proud of them and all the other 2,000+ Cadets from the Service Academies who will also participate in similar swearing in ceremonies later this month.
How fitting these remarkable occasions fall so close to the Fourth of July where our nation celebrates its Independence with family picnics, fireworks, and parades. A day where we celebrate our freedoms, and commemorate the adoption of the Declaration of Independence. How grateful we are to each and every service member who has served, or volunteers to serve, to protect our freedoms for which this document represents.
As your summer plans come together this summer, we encourage you all to bring your family, friends and visitors to come to the International terminal at BWI airport and celebrate our freedoms by thanking our servicemen for their sacrifice.
For those who are new to our organization, the dates of our events are posted on our web site, (www.owhmd.org), along with details about our events. We are extremely grateful to all who give up their time and resources to support our efforts. All donations large or small, are 100% provided back to our troops, as we are an all volunteer organization.
If you are too far to attend one of our events, may I encourage you to help in other ways, such as making hand made cards of appreciation? Our web page provides directions of how to make them, and where to mail them to. Our summer inventory of cards and items for the snacks bags drop over the summer since many volunteers are on summer vacation, so any help is greatly appreciated! We make over 8,000 snack bags a month, and need the same amount in cards. Thank you all once again for your continuous support.
Wishing you all a safe, and memorable 4th of July! See you at the airport ! Sincerely,
Kathy Thorp, Founder, Operation Welcome Home (Maryland)
About Operation Welcome Home Maryland!
Since March 2007, Operation Welcome Home (Maryland) greets Soldiers, Sailors, Airmen, Marines and Coast Guard service members returning from overseas. We average about four welcome home event per week, and YOU could be part of the excitement. Individuals, corporations, youth groups, Boy Scouts, Girl Scouts, Cub Scouts, civic organizations, religious organizations, and government agencies have all participated in events since our founding in March 2007. Volunteers help decorate the lobby with patriotic signs and banners.  They also package "goodie bags" for the troops, many of whom are hungry, thirsty, and tired from their travels and will be waiting on a connecting flight. When the troops arrive through the doors of the International Arrival terminal, we shower them with praise, cheering them on, hugging them, offering them a "goodie bag," and thanking them for their service. Email any questions you may have to:  webmaster@owhmd.org We invite you to come on out to the International terminal at BWI and help us welcome them home! Take a look at the EVENT CALENDAR on the right side of this website to see the current month's event dates or call our hotline at (410) 630-1555. We are also meeting many unexpected flights so keep watching the calendar for changes; we suggest putting our hotline telephone number in your cell phone to get up to the minute news on new flights we will be meeting… Thank you for your interest in supporting our troops and giving them the hero's welcome home they truly deserve!!! We also encourage military personnel from all services to come in uniform to greet your fellow servicemembers! ATTENTION: Companies, schools, church groups and other organizations: We invite you to come out and support our welcome home events, and/or contribute water and snacks for the troops; please email us at webmaster@owhmd.org Volunteers are always needed to give our troops the hero's welcome that they deserve. Thank you! Visit us on Facebook