Message from OWHMD Founder – December 2013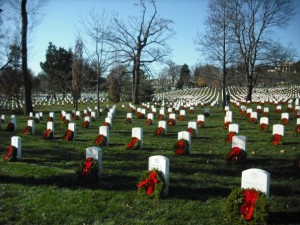 Remember Pearl Harbor… where, on Dec 7, 1941, Japanese forces attacked the quiet Hawaiian Island of Oahu, striking Pearl Harbor, the Schofield Barracks, the airfields at Hicham, Wheeler, Kaneohe Bay and Bellows. Over all, twenty-one ships were sunk or damaged, including the battleship U.S.S Arizona where its crewmember became entombed as she sank. Over 2,390 Americans died, and 1,178 were wounded during the attack. This act of violence against the United States launched America into World War II.
This past March, after welcoming home our son from his 6-month deployment, my family and I visited the U.S.S Arizona memorial. The memorial with its beauty memorialized the fallen from that infamous day. Pearl Harbor survivors often help guide the tours, and speak of the event as if it just occurred yesterday. They also speak of the "black tears", where a quart and a half of fuel bubbles up from fallen ship below each day. The U.S.S Arizona had 1.4 million gallons of fuel on board when she went down, and perhaps half a million gallons remain. It's eerie to see and, in a strange way, a seemingly tangible connection to those who lie below. For those who survived, and all our World War II Veterans who served, we salute you!
Let us continue the battle cry, Remember Pearl Harbor!
On behalf of all us from Operation Welcome Home Maryland, we wish to thank each and every one of you who generously supported us throughout the year. With the gift of your time to welcome home our troops, to bountiful donations of snack bag items, poignant hand written cards, behind the scenes duties including the hauling of cases of water, invitations to speaking engagements and countless other jobs which help our organization run, from the bottom of our hearts we thank you!
OWHMD by far has the best Volunteers base anyone could ask for! You show the world a community cares for their servicemen!
Wishing you all a very Merry Christmas, a joyous Holiday season and a healthy New Year! See you at the airport !
Sincerely,
Kathy Thorp, Founder, Operation Welcome Home (Maryland)
About Operation Welcome Home Maryland!
Hundreds of our Sailors, Airmen, Soldiers and Marines return from the War on Terror every week through the gates of the Baltimore/ Washington International Thurgood Marshall Airport.
Since March 2007, Operation Welcome Home volunteers have greeted over 800 flights and more than 180,000 Soldiers, Sailors, Airmen, Marines and Coast Guard service members.  We invite you to come on out to the International terminal at BWI and help us welcome them home!
Take a look at the EVENT CALENDAR on the right side of this website to see the current month's event dates or call our hotline at (410) 630-1555. We are also meeting many unexpected flights so keep watching the calendar for changes; we suggest putting our hotline telephone number in your cell phone to get up to the minute news on new flights we will be meeting…
Thank you for your interest in supporting our troops and giving them the hero's welcome home they truly deserve!!!
We encourage military personnel from all services to come in uniform to greet your fellow servicemembers!
ATTENTION: Companies, schools, church groups and other organizations:
We invite you to come out and support our welcome home events, and/or contribute water and snacks for the troops; please email us at webmaster@owhmd.org
Volunteers are always needed to give our troops the hero's welcome that they deserve.  Operation Welcome Home (Maryland) averages four welcome home event per week, and YOU could be part of the excitement.  Individuals, corporations, youth groups, Boy Scouts, Girl Scouts, Cub Scouts, civic organizations, religious organizations, and government agencies have all participated in events since our founding in March 2007.
Volunteers help decorate the lobby with patriotic signs and banners.  They also package "goodie bags" for the troops, many of whom are hungry, thirsty, and tired from their travels and will be waiting on a connecting flight.  When the troops arrive through the doors of the International Arrival terminal, we shower them with praise, cheering them on, hugging them, offering them a "goodie bag," and thanking them for their service.
Email any questions you may have to:  webmaster@owhmd.org … Thank you!
Visit us on Facebook 

<!?php edit_post_link('Edit this entry.', '
', '
'); ?>