Message from OWHMD Founder – October 2016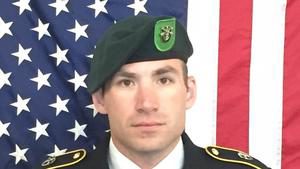 It's with a sad heart, to learn the death of a Maryland resident who was fighting for our freedom and lost his life. U.S. Army Staff Sergeant Adam S. Thomas of Takoma Park was in Afghanistan during his third deployment, and was killed on patrol.
He was a decorated hero and received numerous awards including a Purple Heart and Bronze Star. Please join us in praying for all of his family and friends. It's a stark reminder that our Nation is still in war.
October in Maryland brings forth a month filled with the splendor of unforgettable foliage. The air is turning cooler, and crisp, with decorations of scarecrows, and pumpkins creeping up everyone's doorstep, just in time for our trick and treaters.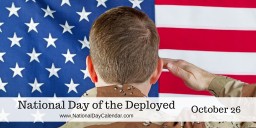 During this month, on October 26th, our Nation celebrates a special day to honor our deployed troops and their families. Known as the Day of the Deployed, it's a day to honor all of our servicemen who have been deployed and are sacrificing, or have sacrificed, their lives to fight for our country.
It's a day to recognize the families who they are separated from. Each of you who support our mission of giving our returning servicemen a hero's welcome home honor our servicemen and families with each event that we hold. We are extremely grateful to each of you who give us your gift of time, through attending our events, organizing card and collection drives for our snack bags, or by supporting us financially.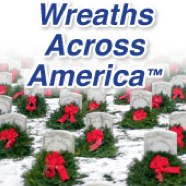 It won't be long before the holidays will be upon us. With that said, for the fifth year in a row, OWHMD will once again supporting Wreaths across America (WAA) with their mission of honoring and remembering our fallen at their annual nationwide wreath laying event on Dec 17th. We will be supporting WAA in two ways, one through sponsorship of wreaths and secondly, by helping lay wreaths at the U.S Naval Academy.
With each wreath sponsored, you will be supporting two Veteran organizations at once, as $5.00 will be provided back to OWHMD to support our mission.
Here is the link to sponsor a wreath for $15.00: https://wreaths.fastport.com/donateLocation.html?page=21871&relate=14858
If you are interested in helping out laying wreaths at the US Naval Academy, just contact me below.
See you at the airport and remember to hang your FLAGS proudly!
Kathy Thorp
navyfam6@comcast.net
About Operation Welcome Home Maryland!
Since March 2007, Operation Welcome Home (Maryland) greets Soldiers, Sailors, Airmen, Marines and Coast Guard service members returning from overseas. We average about four welcome home event per week, and YOU could be part of the excitement.
Individuals, corporations, youth groups, Boy Scouts, Girl Scouts, Cub Scouts, civic organizations, religious organizations, and government agencies have all participated in events since our founding in March 2007. Volunteers help decorate the lobby with patriotic signs and banners. They also package "goodie bags" for the troops, many of whom are hungry, thirsty, and tired from their travels and will be waiting on a connecting flight.
When the troops arrive through the doors of the International Arrival terminal, we shower them with praise, cheering them on, hugging them, offering them a "goodie bag," and thanking them for their service.
We invite you to come on out to the International terminal at BWI and help us welcome them home! Take a look at the EVENT CALENDAR on the right side of this website to see the current month's event dates or call our hotline at (410) 630-1555.
We are also meeting many unexpected flights so keep watching the calendar for changes; we suggest putting our hotline telephone number in your cell phone to get up to the minute news on new flights we will be meeting…
Thank you for your interest in supporting our troops and giving them the hero's welcome home they truly deserve!!! We also encourage military personnel from all services to come in uniform to greet your fellow servicemembers!
ATTENTION: Companies, schools, church groups and other organizations: We invite you to come out and support our welcome home events, and/or contribute water and snacks for the troops; please email us at webmaster@owhmd.org Volunteers are always needed to give our troops the hero's welcome that they deserve.
Email any questions you may have to:  webmaster@owhmd.org
Thank you!  Be sure to Visit us on Facebook