Message from OWHMD Founder – May 2016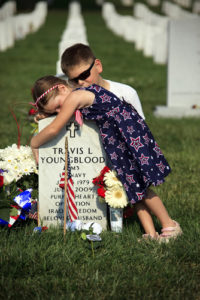 The month of May is a busy one for many families in the area, as it's a time to gather together and celebrate a son or daughters graduation from high school or college.
One just needs to go downtown Annapolis, during Commissioning week, and feel the excitement of 30,000 family members who come from every state in the nation to witness the swearing in of over 1,000 our Nation's newest Navy, Air Force and Marine Corps Officers during the graduation ceremony at the Navy Marine Corps Memorial Stadium.
Operation Welcome Home Maryland wishes to take this time to salute each of these fine men and women who have volunteered to serve our country, to wear the cloth of our nation, and lead others with honor, courage and commitment. Congratulations Class of 2016! We salute you and thank you for your service to our country!
As I write this note in sunny San Diego, I recently visited the waterfront near the USS Midway Aircraft Carrier Museum, and saw the larger than life statue of the kissing Sailor and Navy Nurse, a replica of the iconic photograph taken on V – E Day, May 8th 1945. The statue stands 25 feet tall, depicting the infamous kissing couple in Time Square, where celebrations erupted to celebrate the surrender of Nazi Germany, ending Hitler's Third Reich.
The statue is located near another statue, a bit less famous but notable as it reminds me of what we see each and every day while we greet our troops. It is the statue of "The Homecoming", a bronze statue of a warm hug by a woman, and her child to her returning Sailor, replicating the "daily occurrences" of Sailors and Marines who ship in and out of port from San Diego Harbor. The statue was donated by local benefactors to honor "all Sea Service Personnel and their families."
From one coast to the other, we are grateful, especially during this month of National Military Appreciation to salute all of our military, their spouses and families, for their service to our country. I hope you take a moment and thank the next service member you see!
Lastly, let us not forget the ultimate sacrifice, of giving one's life for another in the service to our Country. Memorial day is a day that our nation weeps for all those who have left us. I hope you take some time out of your Memorial day, to remember those service members, and the families who they left behind. There are many patriotic ceremonies in the area such, at local VA cemeteries, who could use your help in placing flags at the graves of our fallen. Be sure to check near a cemetery near you.
Enjoy the warmer weather, memories with your loved ones, and be sure to remember our military, especially this month. We still need you to help us give our military heroes a welcome home so be sure to gather some of your family and friends and join in the fun!
Until next month, see you at the airport! Kathy
About Operation Welcome Home Maryland!
Since March 2007, Operation Welcome Home (Maryland) greets Soldiers, Sailors, Airmen, Marines and Coast Guard service members returning from overseas. We average about four welcome home event per week, and YOU could be part of the excitement.
Individuals, corporations, youth groups, Boy Scouts, Girl Scouts, Cub Scouts, civic organizations, religious organizations, and government agencies have all participated in events since our founding in March 2007. Volunteers help decorate the lobby with patriotic signs and banners. They also package "goodie bags" for the troops, many of whom are hungry, thirsty, and tired from their travels and will be waiting on a connecting flight.
When the troops arrive through the doors of the International Arrival terminal, we shower them with praise, cheering them on, hugging them, offering them a "goodie bag," and thanking them for their service.
We invite you to come on out to the International terminal at BWI and help us welcome them home! Take a look at the EVENT CALENDAR on the right side of this website to see the current month's event dates or call our hotline at (410) 630-1555.
We are also meeting many unexpected flights so keep watching the calendar for changes; we suggest putting our hotline telephone number in your cell phone to get up to the minute news on new flights we will be meeting…
Thank you for your interest in supporting our troops and giving them the hero's welcome home they truly deserve!!! We also encourage military personnel from all services to come in uniform to greet your fellow servicemembers!
ATTENTION: Companies, schools, church groups and other organizations: We invite you to come out and support our welcome home events, and/or contribute water and snacks for the troops; please email us at webmaster@owhmd.org Volunteers are always needed to give our troops the hero's welcome that they deserve.
Email any questions you may have to:  webmaster@owhmd.org
Thank you!  Be sure to Visit us on Facebook