Message from OWHMD Founder – July 2016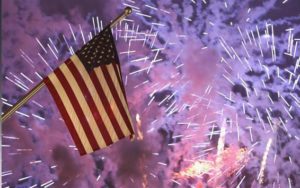 Independence Day, a day our Nation celebrates our 240th Birthday, a day filled with picnics, family and friends gatherings, parades and amazing fireworks, a day to remember the anniversary of when the original thirteen colonies declared their independence from Britain in 1776.
As we celebrate this special day, thought I would share a wonderful message from former President Ronald Reagan who wrote a beautiful message which I encourage you to read in its entirety as it applies to our chaotic and divided world today.
What July Fourth Means to Me
by President Ronald Reagan
For one who was born and grew up in the small towns of the
Midwest, there is a special kind of nostalgia about the Fourth of July.
I remember it as a day almost as long-anticipated as Christmas.
This was helped along by the appearance in store windows of all
kinds of fireworks and colorful posters advertising them with vivid
pictures.
No later than the third of July – sometimes earlier – Dad would bring
home what he felt he could afford to see go up in smoke and flame.
We'd count and recount the number of firecrackers, display pieces
and other things and go to bed determined to be up with the sun so
as to offer the first, thunderous notice of the Fourth of July.
I'm afraid we didn't give too much thought to the meaning of the day.
And, yes, there were tragic accidents to mar it, resulting from
careless handling of the fireworks. I'm sure we're better off today
with fireworks largely handled by professionals. Yet there was a thrill
never to be forgotten in seeing a tin can blown 30 feet in the air by a
giant "cracker" – giant meaning it was about 4 inches long.
But enough of nostalgia. Somewhere in our growing up we began to
be aware of the meaning of days and with that awareness came the
birth of patriotism. July Fourth is the birthday of our nation. I believed
as a boy, and believe even more today, that it is the birthday of the
greatest nation on earth.
There is a legend about the day of our nation's birth in the little hall in
Philadelphia, a day on which debate had raged for hours. The men
gathered there were honorable men hard-pressed by a king who
had flouted the very laws they were willing to obey. Even so, to sign
the Declaration of Independence was such an irretrievable act that
the walls resounded with the words "treason, the gallows, the
headsman's axe," and the issue remained in doubt.
The legend says that at that point a man rose and spoke. He is
described as not a young man, but one who had to summon all his
energy for an impassioned plea. He cited the grievances that had
brought them to this moment and finally, his voice falling, he said,
"They may turn every tree into a gallows, every hole into a grave, and
yet the words of that parchment can never die. To the mechanic in
the workshop, they will speak hope; to the slave in the mines,
freedom. Sign that parchment. Sign if the next moment the noose is
around your neck, for that parchment will be the textbook of freedom,
the Bible of the rights of man forever."
He fell back exhausted. The 56 delegates, swept up by his
eloquence, rushed forward and signed that document destined to be
as immortal as a work of man can be. When they turned to thank him
for his timely oratory, he was not to be found, nor could any be found
who knew who he was or how he had come in or gone out through
the locked and guarded doors.
Well, that is the legend. But we do know for certain that 56 men, a
little band so unique we have never seen their like since, had
pledged their lives, their fortunes and their sacred honor. Some
gave their lives in the war that followed, most gave their fortunes,
and all preserved their sacred honor.
What manner of men were they? Twenty-four were lawyers and
jurists, 11 were merchants and tradesmen, and nine were farmers.
They were soft-spoken men of means and education; they were not
an unwashed rabble. They had achieved security but valued
freedom more. Their stories have not been told nearly enough.
John Hart was driven from the side of his desperately ill wife. For
more than a year he lived in the forest and in caves before he
returned to find his wife dead, his children vanished, his property
destroyed. He died of exhaustion and a broken heart.
Carter Braxton of Virginia lost all his ships, sold his home to pay his
debts, and died in rags. And so it was with Ellery, Clymer, Hall,
Walton, Gwinnett, Rutledge, Morris, Livingston and Middleton.
Nelson personally urged Washington to fire on his home and destroy
it when it became the headquarters for General Cornwallis. Nelson
died bankrupt.
But they sired a nation that grew from sea to shining sea. Five
million farms, quiet villages, cities that never sleep, 3 million square
miles of forest, field, mountain and desert, 227 million people with a
pedigree that includes the bloodlines of all the world.
In recent years, however, I've come to think of that day as more than
just the birthday of a nation.
It also commemorates the only true philosophical revolution in all
history.
Oh, there have been revolutions before and since ours. But those
revolutions simply exchanged one set of rules for another. Ours was
a revolution that changed the very concept of government.
Let the Fourth of July always be a reminder that here in this land, for
the first time, it was decided that man is born with certain God-given
rights; that government is only a convenience created and managed
by the people, with no powers of its own except those voluntarily
granted to it by the people.
We sometimes forget that great truth, and we never should.
Happy Fourth of July.
Ronald Reagan
President of the United States
Lastly, I wanted to share that we are so excited to share that one of our dedicated student volunteers, Miss Hannah Brewer was recently crowned Miss Maryland, from a very competitive group of talented and beautiful young ladies!
Hannah has been one of our very dedicated volunteers, racking up over hundreds of OWHMD events during the course of six years, giving her time and talent to entertain our troops – her rendition of our National anthem, has brought tears to all who hear her.
In between her school work, she volunteers with other local and veteran organizations and founded her own 501c3 organization, "Hannah's Heroes", an organization dedicated to supporting our troops.
She has set such a wonderful example of leadership and compassion to all she comes in contact with, and we are so proud of her accomplishments. We wish her well as she competes in the Miss USA pageant in the fall.
On behalf of all of us from Operation Welcome Home Maryland, we wish you all a very happy and memorable Independence day. Lets always remember those who gave the ultimate for our Freedom, those who are currently deployed, and those families who are left behind. See you at the airport!
Until next month, see you at the airport! Kathy
About Operation Welcome Home Maryland!
Since March 2007, Operation Welcome Home (Maryland) greets Soldiers, Sailors, Airmen, Marines and Coast Guard service members returning from overseas. We average about four welcome home event per week, and YOU could be part of the excitement.
Individuals, corporations, youth groups, Boy Scouts, Girl Scouts, Cub Scouts, civic organizations, religious organizations, and government agencies have all participated in events since our founding in March 2007. Volunteers help decorate the lobby with patriotic signs and banners. They also package "goodie bags" for the troops, many of whom are hungry, thirsty, and tired from their travels and will be waiting on a connecting flight.
When the troops arrive through the doors of the International Arrival terminal, we shower them with praise, cheering them on, hugging them, offering them a "goodie bag," and thanking them for their service.
We invite you to come on out to the International terminal at BWI and help us welcome them home! Take a look at the EVENT CALENDAR on the right side of this website to see the current month's event dates or call our hotline at (410) 630-1555.
We are also meeting many unexpected flights so keep watching the calendar for changes; we suggest putting our hotline telephone number in your cell phone to get up to the minute news on new flights we will be meeting…
Thank you for your interest in supporting our troops and giving them the hero's welcome home they truly deserve!!! We also encourage military personnel from all services to come in uniform to greet your fellow servicemembers!
ATTENTION: Companies, schools, church groups and other organizations: We invite you to come out and support our welcome home events, and/or contribute water and snacks for the troops; please email us at webmaster@owhmd.org Volunteers are always needed to give our troops the hero's welcome that they deserve.
Email any questions you may have to:  webmaster@owhmd.org
Thank you!  Be sure to Visit us on Facebook