Message from OWHMD Founder – April 2014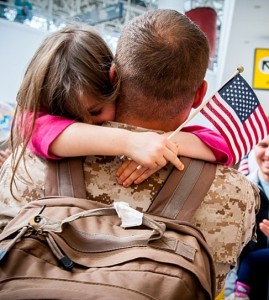 The Month of April each year is dedicated to the thousands of Military Children, who are directly affected by having a parent, or sometimes, both parents, serve in the military. This could mean countless of changes to the natural rhythm of a normal childhood experience.
Military children may have to endure a variety of uncertainties, such as being in extended care after school, so the parents can make ends meet, or having to change schools every three years, with each new PCS move. It could also include the absence of a parent for Birthday celebrations, Christmases and other events, such as the first word, first baseball game, or first goal. It may be having to readjustment to having a parent return from war with permanent injuries, or most profoundly, the tragic loss of a parent.
You may ask, how can someone help? Military children are all over our local area, from Fort Meade, to Annapolis, to Bethesda, to Baltimore and every town in-between. Reach out to a military family in your community, neighborhood, and church or perhaps through your own child's scouts or sports team. There are a number of organizations which support military children, such as Our Military Kids.org, Operationmilitarykids.org, or if you desire to help send a military child to camp this summer, check out the MilitaryFamily.org web site. The challenges are countless; let us never forget our littlest heroes.
Lastly, on behalf of all of us of Operation Welcome Home Maryland, our thoughts and prayers are with the Brigade of Midshipmen, and the families of three Midshipmen who tragically lost their lives this past month.
Midshipmen 1/c Will McKamey
Midshipmen 1/C Max Allen
Midshipmen 3/C Hans Loewen
Our community, and our country mourns for the loss of these bright individuals who will be forever remembered on the hearts of all they came in contact with, during their vibrant lives.
See you at the airport !
Sincerely, Kathy Thorp, Founder, Operation Welcome Home (Maryland)
About Operation Welcome Home Maryland!
Since March 2007, Operation Welcome Home (Maryland) greets Soldiers, Sailors, Airmen, Marines and Coast Guard service members returning from overseas. We average about four welcome home event per week, and YOU could be part of the excitement.
Individuals, corporations, youth groups, Boy Scouts, Girl Scouts, Cub Scouts, civic organizations, religious organizations, and government agencies have all participated in events since our founding in March 2007. Volunteers help decorate the lobby with patriotic signs and banners.  They also package "goodie bags" for the troops, many of whom are hungry, thirsty, and tired from their travels and will be waiting on a connecting flight. When the troops arrive through the doors of the International Arrival terminal, we shower them with praise, cheering them on, hugging them, offering them a "goodie bag," and thanking them for their service.
Email any questions you may have to:  webmaster@owhmd.org We invite you to come on out to the International terminal at BWI and help us welcome them home! Take a look at the EVENT CALENDAR on the right side of this website to see the current month's event dates or call our hotline at (410) 630-1555.
We are also meeting many unexpected flights so keep watching the calendar for changes; we suggest putting our hotline telephone number in your cell phone to get up to the minute news on new flights we will be meeting…
Thank you for your interest in supporting our troops and giving them the hero's welcome home they truly deserve!!! We also encourage military personnel from all services to come in uniform to greet your fellow servicemembers!
ATTENTION: Companies, schools, church groups and other organizations: We invite you to come out and support our welcome home events, and/or contribute water and snacks for the troops; please email us at webmaster@owhmd.org Volunteers are always needed to give our troops the hero's welcome that they deserve. Thank you! Visit us on Facebook