Message from OWHMD Founder – May 2017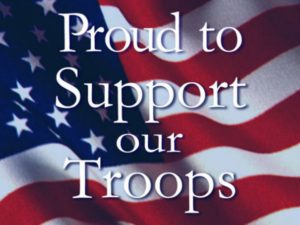 The month of May is Military Appreciation month, filled with various holidays to recognize and honor our military. Such holidays include Military Spouse Appreciation Day on May 12th, Armed Forces Day on May 20th, and of course, Memorial Day on May 30th.                                
Many local churches, organizations, and towns are making a visible effort to recognize our fallen. Its day for which the Nation plays tribute and to remember those who gave their lives to protect our country. All over the United States, solemn ceremonies and parades are being planned.
~ The Boy Scouts of the Capitol District is holding their America Memorial Day Service Flag Placement at the Crownsville Cemetery on May 27th, at 8 am, and they are in need of volunteers to place flags.
~ St. Mary's Church in Annapolis, will be holding a mass and reading the names of deceased Veterans of the parish on Memorial Day.
~ Another event is to honor LT Michael Murphy, a Seal who lost his life in 2005, and whose story is known in the book of "Lone Survivor". This event will take place nationwide, on May 29th, with individuals performing a physical fitness challenge while wearing a 20 lb. vest. The funds raised will help support the foundation Memorial Scholarship Foundation.   What a creative way to honor a veteran!
Do you have any fallen military heroes whom you are remembering this upcoming Memorial Day? We would love to hear about them on our Facebook page. Feel free to post who you are remembering with a short story, so we all can help remember your loved one. It will be a great way to honor our military heroes. They will NOT be forgotten!
See you at the airport!
Sincerely,
Kathy Thorp
navyfam6@comcast.net
About Operation Welcome Home Maryland!
Since March 2007, Operation Welcome Home (Maryland) greets Soldiers, Sailors, Airmen, Marines and Coast Guard service members returning from overseas. We average about four welcome home event per week, and YOU could be part of the excitement.
Individuals, corporations, youth groups, Boy Scouts, Girl Scouts, Cub Scouts, civic organizations, religious organizations, and government agencies have all participated in events since our founding in March 2007. Volunteers help decorate the lobby with patriotic signs and banners. They also package "goodie bags" for the troops, many of whom are hungry, thirsty, and tired from their travels and will be waiting on a connecting flight.
When the troops arrive through the doors of the International Arrival terminal, we shower them with praise, cheering them on, hugging them, offering them a "goodie bag," and thanking them for their service.
We invite you to come on out to the International terminal at BWI and help us welcome them home! Take a look at the EVENT CALENDAR on the right side of this website to see the current month's event dates or call our hotline at (410) 630-1555.
We are also meeting many unexpected flights so keep watching the calendar for changes; we suggest putting our hotline telephone number in your cell phone to get up to the minute news on new flights we will be meeting…
Thank you for your interest in supporting our troops and giving them the hero's welcome home they truly deserve!!! We also encourage military personnel from all services to come in uniform to greet your fellow servicemembers!
ATTENTION: Companies, schools, church groups and other organizations: We invite you to come out and support our welcome home events, and/or contribute water and snacks for the troops; please email us at webmaster@owhmd.org Volunteers are always needed to give our troops the hero's welcome that they deserve.
Email any questions you may have to:  webmaster@owhmd.org
Thank you!  Be sure to Visit us on Facebook